About Signal Fire Films
Signal Fire Films, LLC began with a band from Wisconsin in the 1990s. The group consisted of three full time members: Graham Killeen, Jason Bott, and Jonathan Kline. Over time, the trio stopped performing as a group and sought out other forms of artistic expression, storing their instruments and equipment in the basement they had practiced in.
During this time Killeen and Kline collaborated on a project involving digital rear projection as a set for a nonprofit stage adaptation of Shel Silverstein's children's book "The Giving Tree." Throughout the production the two of them discussed the logistics of story telling through film. But where would they gather the funds needed for film equipment? Then, like a message from the heavens, their question was answered: Killeen's basement flooded in the spring of 2002. Guitars, drums, cords, sound equipment, and hundreds of CDs were all destroyed. Instead of reinvesting the insurance money in new musical gear, the trio founded Signal Fire Films, LLC and made their first purchase, a MiniDV video camera.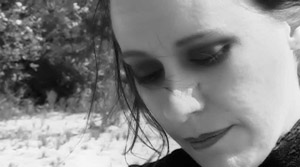 Witch played by Donna Gowell-Mueller
As SFF's new CEO, Killeen began shaping the script that would eventually become "Six Bullets". The group found volunteers from the community and professional theater groups they were associated with. The groups' goal was daunting. The script called for nearly every difficult element known to film: a period setting, child actors, outdoor locations, trained animals, pyrotechnics, prosthetic make-up, aerial shots, and an array of digital effects, all against the limitations of a small budget. But the three were determined to make it work. Killeen's girlfriend, Mercedes Hacker, was brought in to design and fabricate costumes and props. Bott's mother donated items to a rummage sale to boost the production budget. Kline worked six different part-time jobs throughout the production to maintain his availability for the hectic shooting schedule, and to help fund the film's post-production.
What started as three members of a humble band from Wisconsin turned into a sucessful film company with the involvement of hundreds of individuals spanning across the state. After three years of blood, sweat, and tears, "Six Bullets" is the debut short film of writer/director Graham Killeen and Signal Fire Films, LLC. With this endeavor nearly completed, Signal Fire Films, LLC is in the planning stages of its future film projects, including a yet-to-be-announced feature-length film.
"Something new and different for Port Washington."
- City of Port Washington Park and Recreation Department, on the filming of Six Bullets on North Beach